Hamburg, March 2013
Dear Chess Friend,
every day things happen on the chess boards all over the world and here at ChessBase that every chess enthusiast is interested in. And I would like to tell you what's going on, for example...
Candidates
You could have been forgiven for expecting a dry start to this year's Candidates Tournament, with draws across the board and every player keeping his hands (or indeed his pieces) close to his chest. It was, although not completely without fighting spirit, a cautious start. The second round looked, for a while at least, like it was going to be a repeat of the first – but Radjabov and Aronian soon changed that, and Carlsen wasn't far behind, going on to score his first full point in round 3 along with Svidler.
Indeed, the last nine rounds and 36 games have certainly not disappointed, and I think we can safely say that everything has exploded into a fight for domination – a fight which, for the time being, Magnus Carlsen is winning – his defensive tenacity and good fortune holding steady to give him the lead going into round 10.

With only five rounds remaining, everything is still to play for - but what have the world elite been playing? and more importantly – where have they been winning?
The draw percentage after 9 rounds is 64%, so a total of 36% have been decided one way or another. The statistics reveal a clear trend: 22 / 36 with 1. d4 (61%), 8 / 36 with 1. e4 (22%), 4 / 36 with 1. Nf3 (11%) and 2 / 36 with 1. c4 (6%). White has won 5 games with 1.d4, 2 with 1.e4 and 1 with Nf3.

Kasparov: How to play the Queen's Gambit
It would appear then that 1. d4 has been the opening of choice with White so far – and the one single opening with the largest number of decisive games has been the Queen's Gambit Declined, with three wins for White and a win for Black - we've even seen the Cambridge Springs brought back to the top in an outing by Carlsen -and it reminds me of the essence of what Garry Kasparov said when introducing his DVD "How to play the Queen's Gambit" – this is one opening that has stood the test of time for Black, wandering in and out of fashion for over 150 years. You can find more information on this timeless classic in the ChessBase Shop

here.
The games over the past two weeks have shown this to be the case. At times like these, where the World Championship is effectively being decided, it is important to remember what went before. An opening based on solid principles, it also follows that such a prominent part of chess history is worth understanding.
A victory in the main line but the Queen's Gambit hasn't been the only opening to score with 1.d4 – Peter Svidler has twice played the Sämisch against the Kings Indian, and has scored one draw and one win – and it is his win particularly which interests.
Starting off as a King's Indian Sämisch and then transforming into something more like Benko Gambit. There were two particularly relevant elements which lead to Black's demise in this game – while opting for a Benko-like structure and sacrificing the pawn, there is a difference between the position in the game and in the normal Benko – Black doesn't have the development advantage he usually has in these types of positions, so active counterplay isn't as easy to conjure up.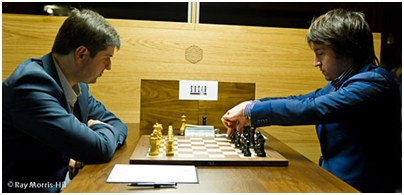 It was fitting, then, that Alejandro Ramirez, part of the commentary team, was able to add to IM Zura Javakhadze's analysis, seeing as he recently released his new DVD just on this opening, "Attacking with the Benko Gambit".
Although this game resulted in a loss for Black, that was more to do with the differences from the Benko, rather than similarities to it: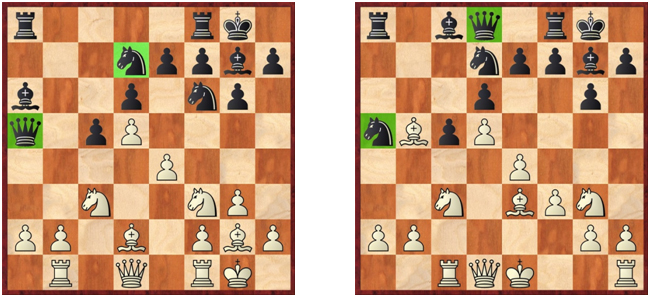 | | | |
| --- | --- | --- |
| A normal Benko setup: Black may be a pawn down, but his activity compensates for this, he is highly developed, the rooks are connected and the Nd7 is in a natural position, the queen occupies a5, which along with b6, is usually a good square for this piece. | | The slightly different "Benko" setup from the game at this year's Candidates between Svidler and Radjabov: Black is a pawn down and has much less activity – compare the position of the Na5 with that of the Nd7 on the left, and note that this takes a square away from Black's queen. The rooks aren't connected and White has more time to try and consolidate. |
Ramirez: Attacking with the Benko Gambit
The general trend towards 1.d4 in this tournament is the ever-popular attempt by White to clamp down on Black's activity and allow him as little scope for fighting as possible. Players looking for an active and dynamic way of challenging this approach would not go wrong to take a closer look at this opening, and Ramirez's DVD would be a very good place to start.

Check it out.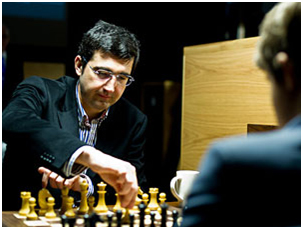 Kramnik - Carlsen and Gelfand – Aronian determined the sole leader in the latest round of the Candidates, and everyone will be watching to see if Magnus can hold this lead or even extend it in the course of the next five games. In the last few rounds, though, Magnus has rather just been "staying alive" rather than checkmating and taking names, while, on the other hand, Aronian blundered in a difficult position, but could perhaps be said to be playing more strongly overall. As for the round 9 game, Kramnik's efforts in his game against Carlsen definitely had the World #1 on the ropes, and it is interesting to see the opening Kramnik employed here.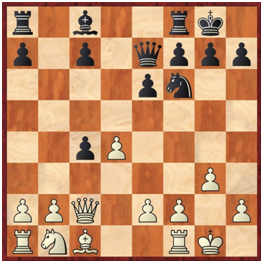 Although he played a rare variation with 11. Qc2 after trading off his light-squared bishop to inflict structural damage on Black's queenside (see diagram), his choice of the Catalan was probably based on several factors. The first is certainly that the Catalan has a reputation for being a pretty solid opening – not necessarily so solid that it always results in a draw, but solid in the sense that White has a nagging pull and that it is hard to outright lose as White. There is also still a lot of play in these positions, with a whole host of ideas that have perhaps already appeared at home during his preparation for the tournament. Vladimir Kramnik definitely showed some exceptional preparation, but couldn't quite convert against Magnus. That's not to say it wasn't mighty close though.
Despite the result on paper, one thing is for certain: if you haven't really looked at this opening much before, it's time to sit up and take notice. On his recent DVD, "Catalan – a complete repertoire for White", Viktor Bologan presents a comprehensive approach for White in the Catalan, demonstrating all the important Black replies in a thematic manner. It's not just about rote-learning theory here, this opening is based on sound principles, and while there are, as usual, certain lines you just simply have to know, there is still a great deal of undiscovered territory that you can attempt to navigate once you have grasped the basic principles of this setup - who knows – perhaps you will be able to emulate Vladimir Kramnik's positional successes against Magnus Carlsen in your next game, too.
If you're looking for a new repertoire to try out over Easter, our series with Viktor Bologan series is worth a serious look. You can find out more about this and other excellent repertoire DVDs by Viktor in the ChessBase Shop

here.
Playchess.com schedule


With commentary still to come from GMs Yasser Seirawan, Chris Ward, Daniel King and Maurice Ashley, be sure not to miss the Playchess.com coverage of the rest of the event. Access to the commentary is free for

Premium members

– and I thoroughly recommend you tune in – here is the schedule for the last two blocks of action:

The rest day is a good point to look through the games that have been played so far, to log on to the server and play some blitz, and perhaps try out some of those Benko Gambit ideas, or to experiment with themes in the Queen's Gambit Declined or in the solid Catalan. Now that Magnus has broken through (or at least, found himself in pole position), you can rest assured that the other players won't let up on the fireworks to wrestle the Challenger seat away from him. Follow the action again on Playchess.com starting tomorrow from 1600 GMT+1. I'll see you there!
See you soon!
Patrick Goldsworthy
---
If you no longer want to receive the newsletter,

click here

.

You will be automatically removed from the mailing list.
---
ChessBase Schachprogramme Schachdatenbank Verlagsgesellschaft mbH
Company registered: Osterbekstr. 90a, 22083 Hamburg
Telephone: 040-63 90 60 0 - Fax: 040 630 12 82
CEOs: Matthias Wüllenweber and Rainer Woisin,
HR Amtsgericht Hamburg HRB 40336
Value added tax identification number DE 118644875
Tax office Hamburg-Uhlenhorst tax number 49/711/00031